Jane Gentzen, Owner, Breeder, Handler, Judge
Breeding sound tempered and performance Ridgebacks since 1987 Chino Valley, Arizona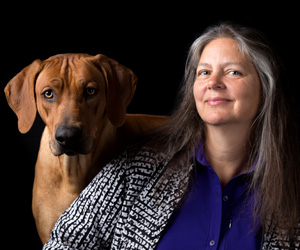 From childhood my life has always included dogs. During my high school years working through the 4-H program I trained our mixed breed farm pup to become a top scoring obedience dog. Since horses were a top priority in my youth, having a dog with the strength and stamina to keep up with a horse on a trail also became a priority. Jane Gentzen and family moved to Arizona and purchased a house in a horse subdivision with a pool. Having a pool was great, but I did not want a dog that was continually in the pool. Additionally I desired a dog that would be both a companion AND protective, but not aggressive with my children. Finally, I wanted a healthy dog which did not require hours of grooming. The Rhodesian Ridgeback met all my needs.

At the time I didn't realize how that first Ridgeback puppy would not only win my heart but change my life forever. As someone who started with one beloved Ridgeback, Chelsea, I have experienced much more than the dog ownership most people enjoy. I have learned the ins and outs of exhibiting dogs both in the ring and in field event. I see things from multiple perspectives; an owner/handler/exhibitor, breeder, and a judge.

As both an AKC Conformation and Lure Course judge as well as an exhibitor, those that I mentor gain the advantage of my insight through my successes and failures. I have learned much, made longtime friends, and seen lives changed by the companionship of one or more of my dogs. Courage Ridgebacks serve as protectors, companions, and just unbelievably good foot warmers. The Ridgebacks at my home have been great help in teaching my children responsibility, discipline and compassion. They are all unique and all hugged and loved.

Being a seasoned exhibitor, I know my advice helps shorten many of the Courage Ridgeback owner's journey to putting a title on their Ridgeback, if that is one of their goals. The dog show arena was where I met many Ridgeback intelligent people... and my dog knowledge grew exponentially. Now, I enjoy educating those who want to learn what it means to have a Ridgeback as a companion. Although as a career I taught high school math, my passion has always been to enjoy and teach others about this awesome breed. Therefore, purchasing a Ridgeback puppy from Courage Rhodesian Ridgebacks comes with the benefits of my twenty plus years of being in this breed.

As an AKC Honor Role Breeder of Merit, I have both a love for and a dedication to improvement of the breed. Our goal in our breeding program is to produce healthy, capable, companion dogs of excellent temperament and movement that epitomize the breed standard. There is much more to these dogs than a "ridged back" and while a show dog represents the breed in the conformation ring as a well bred Rhodesian Ridgeback, ALL Courage Ridgebacks are a member of the family with whom they live and love. So whether your Ridgeback excels in the field, conformation, agility, obedience, hiking, babysitting, counter-surfing or just being the resident couch potato, Courage Rhodesian Ridgebacks are all loved by me. I welcome you to visit our dogs and puppies and experience the same. Our photo gallery link can be found by clicking on the "Our puppies" tab. I hope you enjoy getting to know the "Courage family."